I have been wracking my brain for hours working on coming up with some interesting and fun way to describe what neurons are and how they work. The blocks I have been experiencing, in a way, actually are illustrative of how neurons work.  You see, my brain does not have pre-existing pathways to communicate to you in an easy and fun way how neurons work.  My brain only has pathways to describe it in a boring way.  The reason is that I have only learned about this system by reading neuroscientific books, hardly a stroll on the beach.
Your brain has these very social cells called neurons and they love to communicate with each other.  They communicate through releasing chemicals and electrical impulses. There are 100 billion of them in a human brain and each one has the ability to maintain a connection with ten thousand other neurons.  Every time we learn something new like riding a bike, a foreign language or a new driving route they create new connections.
The more often they communicate with each other the stronger and faster their connections.   That is why when we first learn something new like a foreign language or a new driving route it feels difficult and unnatural.  We do not have the connections established yet and million of neurons are firing trying to approximate the new behavior.  Through practice and repetition your brain forms faster pathways involving fewer neurons for each new behavior. Once those pathways are established the behavior becomes second nature to us.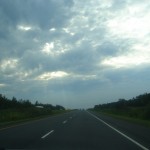 A perfect example is how alert we are when driving to a new place.  Yet when we are driving a familiar route, we sometimes wonder how we even got there.  That is the automatic pilot in our brain.  When I started to write this post, my automatic pilot was producing scientific language and it was getting in the way of my goal. I had to stumble around and concentrate in order to explain it simply.  Doing this has now created new neural pathways.
Next time it should be a little easier!
---