Last Wednesday, which happened to be Bastille Day, David and I went to a Cinemonde Soiree in Manhattan.  I had been invited to these before, but have declined going due to Wednesday schedule conflicts.  This time I cleared my schedule and decided to take David as part of his birthday gift.  From the description: gourmet food, drinks, short films, and possibly really interesting people, I was looking forward to a yummy and entertaining evening.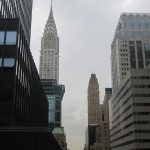 It was so much more than that.  First the environment, at the penthouse floor of the artsy Roger Smith Hotel, with its beautiful outdoor roof, was open and inviting.  The view of Manhattan was spectacular and the breeze was refreshing after the hot and humid days we'd been having.  People from all ages and walks of life began to flow into the space.  There was something different about them – the way they looked, moved, vibe'd – which transformed the space into a funky and energetic scene reminiscent of a Woody Allen film.  There was an emotional  and intellectual vibrancy which transcended our separateness – our "strangers" status.
The shorts were thought provoking and interesting.  Many of the directors and producers were there to share their vision and answer our questions.  The food was absolutely delicious; they flew in a chef from France for the occasion.  They also had a raffle, and happily David won the first prize, a final draft screenwriting software (just what I needed:-)  We met some wonderful people and are actually having dinner tomorrow with one of the couples that we met.
So why am I sharing this with you?
For two reasons:
The first is that we were surrounded by people who were passionate about what they are doing in life and that is one of the main reasons this environment pulsed with such joie de vivre.  I want to remind you that finding your passion and living from there is a human right, both for you and your children.
Second: We are wired to be social creatures.  Socializing with people stimulates our brains, develops new neural pathways and is one of the greatest preventative measures for dementia.
So go out there and try something new! Make sure it taps your passion and allows you to share with other people.
---