Have you reflected on what is your idea of love as I requested in my On Love blog? It's remarkable how we bandy this word around, but in many ways most of us are struggling to define it and find it. For me the experience of love came crushing down the second I laid eyes on Leor. Don't get me wrong, I experienced heartfelt love toward Leor's father, Freddie, but it was a "romantic love" that turned to familiarity and habit within a couple of years.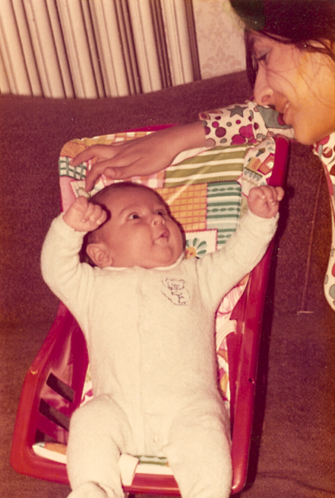 When they put my child in my arms for the first time, every part of my being came to attention. As my every sense — visual, olfactory, auditory and touch — were breathtakingly taking him in, a new sense arose: protection at all costs. Here began a whole new discovery of love. And I mean discovery of love because no one ever really teaches us about love. We read books and see movies and hear stories, but love is not like learning geography or math, it is an experience. We need to actually experience it in order to know what it is.
The ideal would be to experience love from our parents, e.g.to feel them feel us. But as I discussed before, most of us did not feel our parents' emotional love; we experienced their physical love for us. They took care of our physical needs, not our emotional ones, and this left us hungry for emotional love. What I felt for Leor was new to me: an overwhelming feeling of wanting what's best for him. It hurt me when he cried and I rejoiced in his laughter. I wanted to do whatever I could to contribute to his overall well being.
While this was true of what I felt for Freddie, it disappeared when my needs were in conflict with his and vice versa. My love for Leor was all encompassing and often superseded my personal needs. My drive to promote his healthy growth and development stretched me beyond my ego. My love for him forced me to look honestly at myself, my limitations, my fears and my selfishness. For his sake I needed to learn and grow beyond my sense of identity. As I focused on taking care of him the best way I possibly could, I became a better mother, woman, friend, child and human being.
My understanding and expression of love continues to evolve and reach new depth and heights. It has become clear to me that,
When I am in love's presence and am acting from love, I and the person I love challenge and support each other to become much more than we think we are.
Do you recognize this vision of love?
---