I want to share a couple of  human interest stories I heard and saw on video to give you an idea of how revolutionary neuroscience is becoming and the impact it is already having in people's lives.  One of the most moving stories describes a 54 yr old eye surgeon who sustained a massive stroke and became paralyzed in the entire left side of his body, incapacitating him.  Conventional physical therapy treatment left him only able to walk with a cane and barely able to use his left hand.  He found out about Dr Taub's Therapy Clinic, which treats patients based on the plasticity of the brain. Although intense and tedious, this new therapy gave him back his life.  It enabled him to return to work and resume playing tennis; two of his favorite activities.  No, he is not doing surgery anymore, but he is still practicing as an eye doctor.
The second story is about Barbara Arrowsmith Young, born in 1951 in Toronto with a variety of serious learning and perceptual disabilities including dyslexia, difficulty in pronouncing words, spatial reasoning (ability to tell the differences between right and left), difficulty reading a clock, and a host of other debilitating problems.  She was fortunate to have a brilliant auditory and visual memory which helped her through school.  With her incredible tenacity and unyielding desire to learn she completed post graduate school at the Ontario Institute for Studies in Education.  She began to research ways to understand and fix her severe disabilities.  When she learned that the brain can be modified, she was inspired to see if she could rewire her own brain.  She started developing mental exercises, working to exhaustion for weeks – with only brief breaks for sleep – and over time she completely overcame her many disabilities.
Barbara developed numerous  mental exercises for various disabilities and is now treating scores of children in her facility, the Arrowsmith School. All of these children would otherwise not be helped.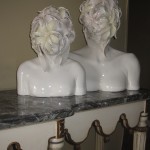 These  are only two examples of the many lives that are being transformed as a result of these breakthroughs.  As a therapist whose goal is helping to alleviate suffering, learning as much as I can about this and using it in my work is the most exciting thing that has happened in my professional life.
For you who are reading this, the possibility of creating a healthy and joyful life has increased tremendously.  Please sit with this, let it sink in and see if you can imagine how rewiring some of your behaviors could change your life.
---