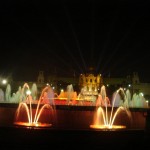 Someone once told me that the definition of "coincidence" is God's desire to remain anonymous.  It really resonated for me since there have been so many times in my life where chain of events were just too freaky to be viewed as mere coincidence.   It is happening again.  Ever since I declared that I would like to start a movement to forward humanity's consciousness,  several  significant people and situations have entered my life.  Each one seems to be bringing a specific ability to forward this mission.  I will share more about them as things unfold further.
What I want to highlight here is the power of clarity and conviction.  When an individual has a sense of who s/he is and purpose for his/her life, the universe supports that calling.  In my own work, and with my work with my clients over the past 25 years, I have seen this at play over and over again.  I don't view it as magic or religious, I view it as being aligned with ones' mission in a way that vibrates some energetic frequency which attracts to you what you need to succeed.  Sort of like a magnet.  The greater the clarity and commitment, the more notable the results.
I have seen this happen most often when people confront their unhappiness with their jobs and decide, with great trepidations, to quit.   This act of courage invariably gets rewarded because the individual is now attracting opportunities that are aligned with his/her truth.  Helping individuals get through this process is very challenging on two fronts.  The first is that so many people don't have clarity with regard to who they are or their purpose. Once they define themselves they then are confronted with the fear of letting go of their safe jobs and move toward the unknown.  Coming from survival, it is hard to convince them that if they let go of the jobs they dislike they are actually creating room for what they are passionate about.  If they do, they will vibrate from their truth, and the apparent miracles begin to manifest.
Given how challenging and painful this process is for most people, I urge parents to begin this discovery process with their children when they are young.  Listen to your child's heart, his passions, her talents, her glee and  help them recognize and cultivate what they love.  Helping your children discover and pursue who they came here to be will spare them this arduous and painful process when they are older.
---