On the bus ride back to Quito.  The views are breathtaking.  The lush green mountains kissing the clouds, the valleys, dotted with beautiful little homes surrounded by farming land.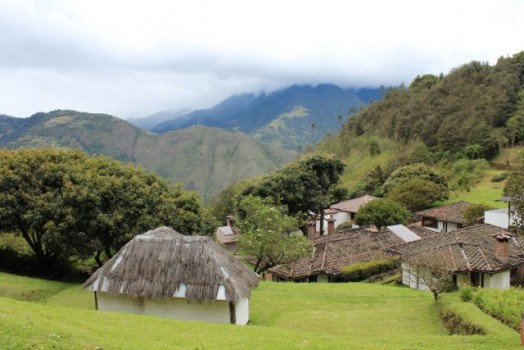 As we stop by more populated towns, the doors open and vendors step in to sell us fresh strawberries, water or candy.  The bus driver's helper steps out and calls out loud the destination of the bus: "Quito, Quito!"  People run toward the bus with children and suitcases at hand.  We watch them board the bus, amazed at the simplicity and practicality to it all.  There is a sense of community, of belonging.
For me, Ecuador is very reminiscent of my childhood in Israel.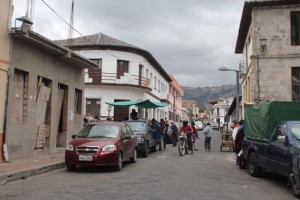 The narrow streets, the dilapidated buildings among newer ones, the vendors and smells in the street, the ease with which people communicate with each other, sense of community.  We see very young children walking by themselves without apparent adult supervision, but know they are safe.   The slow pace of life with siesta time.  There is something very attractive about this way of life.
On the other hand there is poverty all about.  You see many women swaddling their babies on their backs, clearly lacking in basic needs, people on the street besieging us to buy things from them.  There are emaciated wild dogs running around looking for food.  It all feels overwhelming at times.
With it all there is a rhythm of life here, of making the best of things.  There are children everywhere and they seem to be attended to in a way that I don't see in the States.  We see cab driver fathers taking their sons to work with them, explaining things to them with a great level of intent and heartful connection.  Children look happy here.  Their twinkling eyes are wide with curiosity.  They appear eager to learn and hard working.  I don't think I have heard a child crying the whole time I have been here.
One of the most fascinating scenes for me has been watching the indigenous people.  They are short in stature and have the most amazing face structures.  When I questioned why they all wear the same hat with a feather in it, I was told that it represents their national identity.  They congregate with each other and do not seem to be integrated with the greater culture. When we were in Quito we took a side trip to their market and got an eyeful.  The scene reminded me of something out of a movie.  We saw everything from farmers selling animals like sheep and bunnies to artisans selling their handmade artifacts.  As I stood by watching their interaction, again I experienced a sense of simple integrity.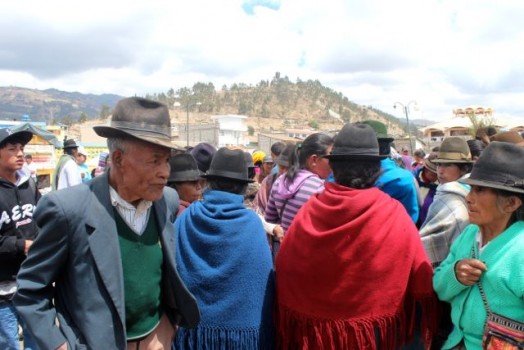 We are about to pull into Quito and I am cognizant of the fact that this blog does not have a beginning or an end.  In a way it bespeaks the cadence of life here: simple, down to earth, flowing with integrity and connectedness.  Human beings showing up and doing the best that we can with what we have.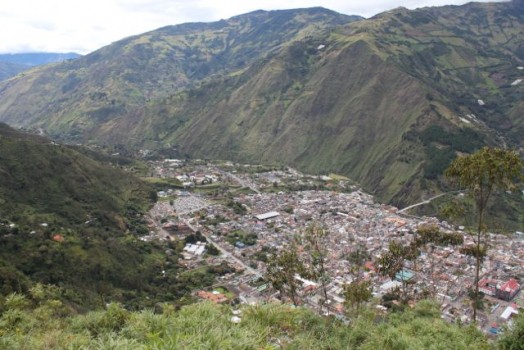 ---