What are you feeling right now?
Discover inner peace and emotional freedom with AWARENESS, a revolutionary new application for iPhone and
Android that helps you learn to be grounded and peaceful in your day to day life. Developed by Ronit Herzfeld, it builds on 25 years of clinical psychological experience, modern advances in neuroscience, and ancient spiritual teachings, packaged into a mobile tool that goes with you wherever you are.
AWARENESS ushers in a new era in the way individuals can use technology to change their own feelings, attitudes and behavior in an empowering way.
We are what we feel, so it's time for each one of us to bring our emotions out of the closet! My experience is that when I share my grief or joy with you, both of us can be healed. And the first step is to know what I am feeling in each moment. The AWARENESS app is a sophisticated, effective, and wise way for just about anyone, anywhere in the world, to connect with their emotional intelligence, and to create a world-wide community of awakened people. Thank you, Ronit!

– Elizabeth Lesser, Cofounder, Omega Institute
Author of Broken Open: How Difficult Times Can Help Us Grow
The AWARENESS application is the first tool to use mobile technology to randomly intercept your daily routine, and prompt you to get in touch with what you are feeling; taking you out of your worries and bringing you to the present moment.
AWARENESS is easy to use, and includes some great features:
A gentle reminder sound will intercept your routine, habitual thoughts and feelings throughout the day
Avoids interrupting your iCal meetings
Brief video clips guide you back to the present moment
400 inspirational quotes tied to what you are feeling
Daily, Weekly, Monthly, and Yearly reports give you insight into which activities lead to specific feelings
Reveals how you distract yourself from unpleasant feelings and how you can constructively free yourself from them
Works with or without a network connection
No advertisements
All data is kept private and stored only on your iPhone
Over the last two decades, the use of brain scanning technology has conclusively revealed the brain's capacity to change its structure based on new experiences. New breakthroughs in neuroscience are continuing to reveal the extent to which our brains can rewire themselves and reshape our feelings, thoughts, behaviors and abilities. Using this application consistently over time can rewire your brain and increase your AWARENESS in your daily life.
To really feel your own power and abilities, you must begin by spending time with yourself. But time can be scarce. The AWARENESS iPhone application creates a small space, wherever you are and whatever you are doing, to stop, feel and breathe — usually, just when you most need it. This ingenious little helper is like an angel sitting on your shoulder, encouraging you to be the person you truly are.
– Evan Bailyn
Author, Entrepreneur and Founder of The Evan Bailyn Foundation For Emotional Awareness
Whether you know it or not, your emotional world runs you. The more aware you are of your feelings, the more you can harness them to your benefit. You can be a prisoner of your emotions, or you can master them.
AWARENESS help you become aware of your emotions and how they affect your thoughts and actions in ways that don't work for you; preventing you from living your life fully and authentically. After just a few weeks of practice, users have found that:
- They are more present, more relaxed, and more comfortable in their skin.
- They are more harmonious in relationships
- They are less stressful and more peaceful at work and at home
- They are more energetic during the day
- They are more successful in sticking to a diet or exercise routine
- They are less distracted, impatient, forgetful or tired
We look forward to hearing your personal story of transformation through AWARENESS!
SCREENSHOTS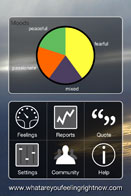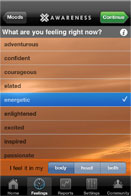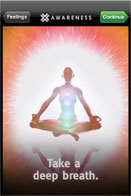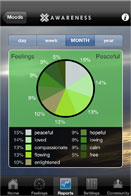 Click for support